Directions
Dennis Pines: Take exit 78B (former exit 9B) off of Rt. 6, proceed north on Rt. 134, take a right approximately 2.5 miles to Golf Course Road, Dennis Pines Golf Course is located at the end of Golf Course Road.
Dennis Pines is a par seventy-two, seven thousand-yard championship golf course. It is situated on 170 acres of pine forest land in the Village of East Dennis.
Designed by Henry C. Mitchell and opened for play in 1966, Dennis Pines has long been noted as one of the toughest layouts on Cape Cod. Tree lined corridors place a great premium on accuracy rather than distance. Water comes into play on four holes, and the twelfth hole is recognized as one of the most difficult par fives anywhere.
Features/Amenities
MasterCard/Visa/Discover Accepted
Expansive Driving Range (All Weather Mats)
Practice Green
Power Carts (including the Solo Rider) & Pull Carts
Restaurant / Lounge
  Tee Birds 508-385-2473
Prepaid Advance T-times
Complete Pro Shop
Tournament Planning
Golf Lessons
Callaway Club Rentals $55.00
508-385-8347
50 Golf Course Rd.
East Dennis, MA 02641
email us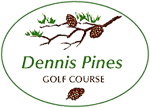 MEN

GOLD 74.3 133
BLUE 72.6 130
WHITE 71.0 125
GREEN 68.6 123

WOMEN

BLUE        79.2    142
WHITE     75.6     132
GREEN     73.1    127
RED           70.9    124
No carts are allowed in the woods
No carts 30 feet from the greens
Local Rule: Remove stones from sand traps, NO PENALTY
NO alcoholic beverages allowed in the parking lot
NO Ball Hawking
Warning: Our club has NO lightning detection system. In the event of inclement weather,
golfers should leave the course immediately or seek shelter.

+1 (508) 385-8347 x1 (Highlands)
+1 (508) 385-8347 x 2 (Pines)
Eagles Nest Restaurant (Highlands) 508-385-GOLF (4653)
Tee Birds Bar & Grill (Pines) 508-385-BIRD (2473)
mfabiano@town.dennis.ma.us