[vc_row][vc_column][vc_column_text]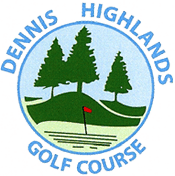 508-385-8347
825 Old Bass River Rd.
Dennis, MA 02638
email us
Dennis Highlands is a par 71, sixty five hundred-yard championship golf course. It is situated on 175 acres of pine and oak covered rolling ground on the north side of Dennis, in the village of Dennis. Designed by Jack Kidwell and Mike Hurdzan and opened for play in 1984. Dennis Highlands may be the "Crown Jewel" in the traditional list of fine Cape Cod golf courses.
It is a course marked by an impressive entranceway among wild flowers and trees, leading to a beautiful clubhouse.
It boasts one of the most spectacular practice ranges in golf and culminates in eighteen of the most visual and enjoyable golf holes in sequence anywhere.
Features/Amenities
MasterCard/Visa/Discover Accepted
Expansive Driving Range
Practice Green
Power Carts including the Solo Rider / Pull Carts
Restaurant / Lounge
Eagle's Nest Restaurant & Lounge 508-385-GOLF (4653)
Prepaid Advance T-times
Complete Pro Shop
Tournament Planning
Golf Lessons
Golf Club Rentals $25.00 & $45.00
Open 12 Months (weather permitting)
[/vc_column_text][/vc_column][/vc_row][vc_row][vc_column][vc_media_grid grid_id="vc_gid:1525957000596-23a5253e-91fa-6″ include="84,85,86,87,88,89,90,91,92,93,104,103,115,114,113,102,112,111,100,101,98,99,110,109,108,97,96,107,106,95,94,105″][/vc_column][/vc_row]