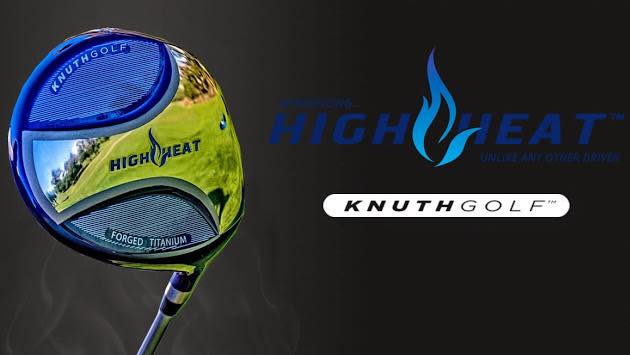 A ton of  great new products were unleashed this year at the 2016 PGA Merchandise Show. If you're in the market for new clubs, you need to consider Knuth drivers and fairway woods. Their quality is top-notch and unmatched by the competition. These clubs have a low center of gravity allowing you to put more weight under the ball. The fairway offerings are 3-, 5-, and 7-wood models, and the hybrid choices are #3 (18 degrees), #4 (21 degrees), #5 (24 degrees), and #6 (27 degrees). The ball jumps off the High Heat driver and travels farther without having to swing like a madman.
The new High Heat fairway woods and hybrids also come with Knuth's "Optimal Center of Gravity (CG) Game Changer" that has enabled the High Heat driver to provide amateur golfers with a 25% deeper and 18% lower CG compared to major brands' average CG location. This technology resulted in the High Heat Driver being longer, straighter and more forgiving according to Golf Laboratories, which is the world's recognized leading robot testing company. This year's offerings promise the same distance and accuracy boost.
For a driver in the $300-$400 range, these are a great value. This club is a must have especially on the 15th hole at Dennis Pines. Go to knuthgolf.com to get yours today.