With the Valspar Tournament occurring this week the golf world is buzzing with talk about Jordan Spieth. Spieth is in pursuit of another win and experts are predicting him to come out on top. This past year has been one of major improvements for Spieth, hard to believe seeing as he had such success in the 2015 season. All eyes will be on Jordan Spieth, and his fashion choices at the Valspar tournament which is why we want to highlight the Under Armour Jordan Spieth collection. When you are playing on the beautiful Highlands and Pines courses this season you will want to ensure your top notch play is accompanied by top notch apparel, inspired by a champion.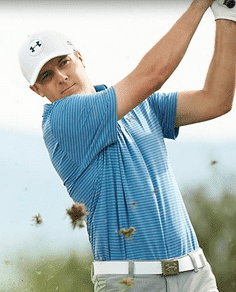 With the motto of, "You are the sum of all your training," the Under Armour Jordan Spieth collection puts emphasis on clothes that will enhance play, encouraging players to live, sleep, and train golf. While wearing this line you will not give up, no matter the conditions. The UA Performance men's polo is the classic golf polo with tons of bonus features. The UA Performance polo has a loose fit with 4-way stretch fabric ensuring comfort on the green, it has Moisture Transport System and 30+ UPF protection ensuring the Cape Code sun does not hinder your game. One of the best features of this polo is the anti-odor technology helping control any odors and keeping you fresh.
Under Armour continues to up the ante of the golf fashion world by releasing new golf shoes, available for purchase again on April 4. These new shoes will bring your game to the next level so you will feel and look like a champion. The first edition of the Drive One golf shoes sold out fast after their releases so if you want to be sporting them on courses this spring we suggest signing pre-ordering them!
The Valspar Tournament is going to be full of great play and fashion. For fashion inspiration for this season on the cape be sure to watch out for Jordan Spieth's styles along with the numerous other fashions inspired by champions alike.