The last two commander in chiefs of the United States have been pretty big golfers.
Barak Obama and current president Donald Trump, who owns many courses across the country and plays to a 2.8 handicap in 2009.
Obama isn't a slump himself playing to about a 13 handicap.
In an interview with David Feherty, Obama summed up his game "I think my irons are good, my drive is straight but unimpressive in length, and my putting's decent, chipping is OK," Obama told Feherty. "My sand game is terrible."
The former president has been trying to sharpen up his game recently joining Robert Trent Jones Golf Club in Gainseville, Va.
So with all this practice now he is out of office, he took to St. Andrews Old Course recently to play a round.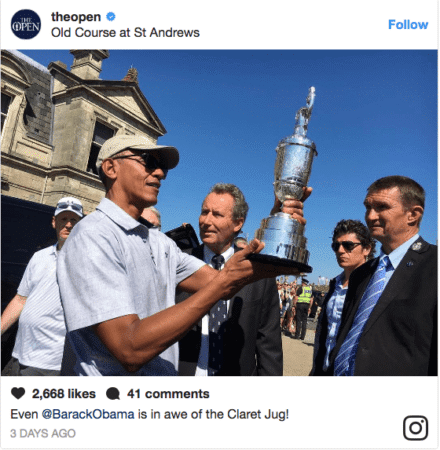 And then Obama faced the 18th hole on the old course, a short par 4 to finish up a day full of difficult putts and golf shots.
But a huge crowd awaited Obama on the 18th green as if he was about to make a putt to win a major championship.
He left his approach short and had a longer putt, he left it pretty short and had a tester to get away with two putts.
But like many mid-handicap golfers, three putts happen more often than not.
He missed his second putt and picked his ball up wrapping up his round at the Old Course.
He is known for playing famous courses such as The Floridian with Tiger Woods, playing a round with Steph Curry and playing the beautiful TPC Potomac, not far from his old place (The White House).
The title of president of the United States means a lot of things, and sometimes that includes avid golfer.