back
SkyTrak Golf Simulator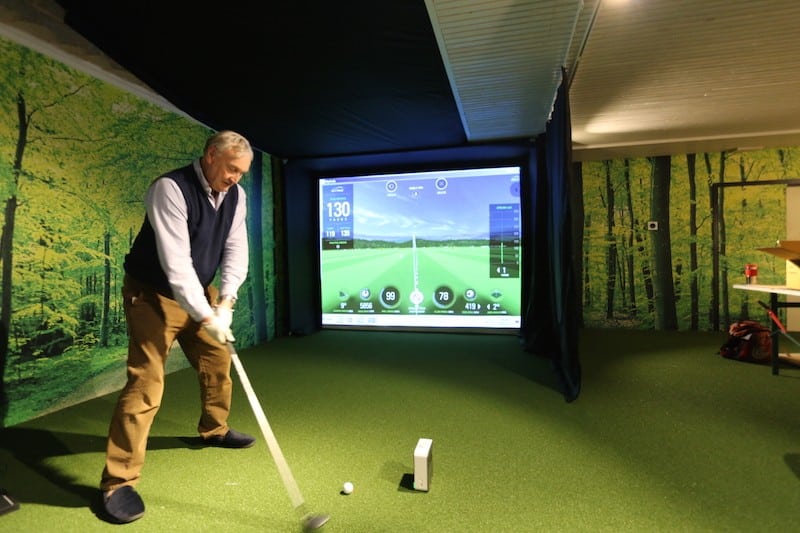 Your Own Home simulator!
SkyTrak's home golf simulator is heralded as a "complete practice, play and entertainment system." SkyTrak promised to deliver "commercial quality ball flight simulations that reflect a golfer's actual performance for game improvement and entertainment" at a fraction of the price of comparable alternatives – and that's what they did.
A photometric launch monitor with commercial-grade accuracy, SkyTrak uses high-speed cameras to accurately capture five measured data points which include: ball speed, launch angle, backspin, sidespin and side angle. This data is recorded so you can take a number of different strokes with one particular club and compare the results and see the averages for that series of shots.
SkyTrak can be used almost anywhere your heart desires. Use it in your garage, living room, or backyard.  You can also take it out to the range with you.  The system currently connects wirelessly to your iPad in seconds and gives you the feedback necessary to know where your shots are going.  You don't need a lot of room either.  The SkyTrak sits on the floor and casts a laser light out from the device about 12 inches away to designate your ball position.  You can use a tee for drives or other tee shots. With the visual and technical readout SkyTrak provides it has never been easier to find weaknesses in your game and to make adjustments instantly to evaluate the improvements.  After making adjustments you can then burn the mechanics into your muscle memory.  Ultimately these mechanics can then be taken to the course.
Powered by Rapsodo, the creators of Skytrak launch monitor have helped create the R-Motion, which is is a tracking device that clips onto your golf club and recreates your ball-flight in a realistic 3D computer based simulation game which will cost you a fraction of the price. R-Motion gives golfers instant metric feedback on club speed, swing path, smash factor, distance and launch angle on all of the clubs in your bag. Coming in at $299 the R-Motion is the most accurate and detailed simulator available at this price. Use "Indoorgolf17 for $70 off the $299 retail price at www.RMotionGolf.com
There are practice and challenge modes for golfers hoping to hone their skills, with an assessment plan built in to help track progress. For those who want to play a full round of golf, options include prestigious and high-quality venues  like Merion, Bandon Dunes, Pinehurst and Bethpage Black. Additionally, the SkyTrak's uncomplicated configuration allows for easy storage, giving the simulator mobility.
SkyTrak is very accurate and it comes with multiple simulation-software options for a fraction of the cost of its comparable competitors. Not to mention, it's really enjoyable to use, which will make practice more productive.